Winter wheat needs a combination of phosphorus, potassium and micro-nutrients, but the most important single nutrient is nitrogen, which the plants will need throughout the growth cycle.
It's important to get the right balance of nutrients for a successful winter wheat crop, so we have a programme of smart liquid fertilisers to help give your plants the nutrients they need.
Here's a side by side comparison that shows the visible difference that using our smart liquid fertilisers can make to winter wheat: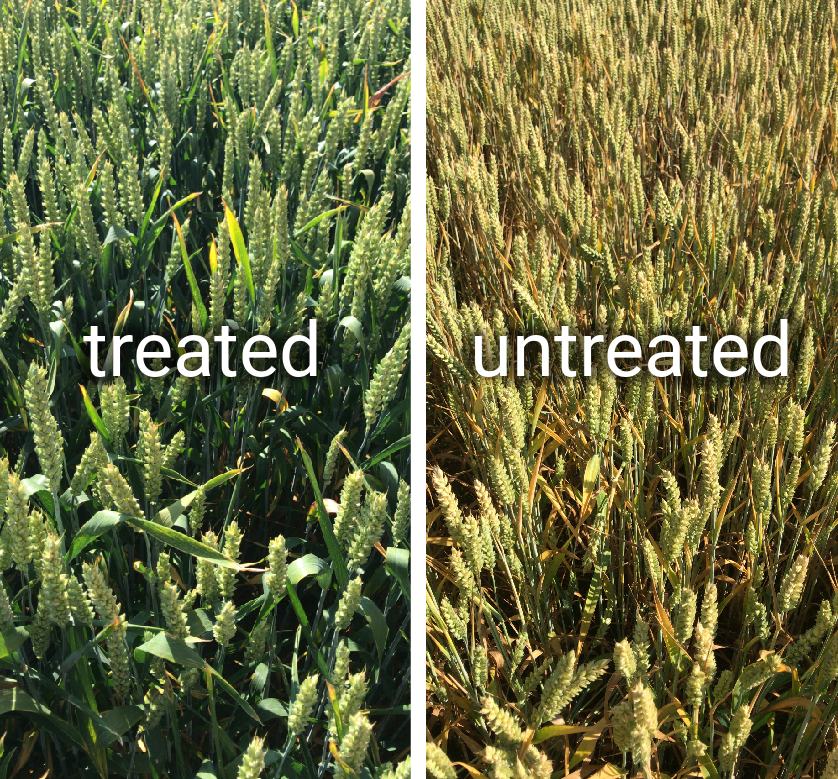 Nutrition is key for winter wheat success
Shortages of nitrogen (N) and phosphorus (P) can lead to reduced tillering, reduced head size and poor grain fill, but nitrogen also helps with protein count and phosphorus helps with reduced winter-killing, water efficiency, hastened maturity and lower grain moisture at harvest. Potassium (K) can increase moisture and help the plants to use nitrogen more efficiently with decreased disease lodging.
We recommend two applications of Delta of 2.5l/ha three to six weeks apart during early drilling followed by a further 5l/ha during late drilling. This should be followed by another application of 2.5l/ha pre-emergence. When the first true leaves emerge, you should apply 2.5l/ha of Delta once more as well as 2.5l/ha of TipTop. This should then be followed by another 2.5l/ha application of TipTop when there are two true leaves.
Delta and CalFlux for winter wheat
Exclusive to Bionature in the UK, NHCA Delta contains calcium, nitrogen, ureic, nitrate, boron and calcium nitrate. It's designed to resist leaching through the soil profile and avoid total loading of nitrogen by providing a stable source of nitrogen.
Calflux contains calcium and zinc and is designed to decrease waste due to dehydration, prevent tissue breakdown and increase calcium absorption. Used together, these products, which are both exclusive to Bionature, can help you winter wheat grow stronger and healthier with higher quality yields.
Bionature UK will be exhibiting at Croptec 2018 at stand 117, hall 1.