I met with vegetable grower Mick Nundy from Windy Ridge Farm, just outside Boston on 17th April 2012 who was concerned that his brassica plugs under glass were developing very slowly due to the poor light and cold weather conditions we have had recently. The crop has received the normal program of base fertilizer and looked well except it was not as well developed as Mick would prefer.
I recommended that he apply 5L per ha equivalent of NHCa Delta to the plugs. He took one tray, as a control, out of the site when the Delta was applied. The Delta was applied on Friday 20th April 2012.
The grower called on Friday 27th very impressed that after 6 days he had seen a very significant change in the crop. As you see from the pictures, the plugs have grown and developed very quickly, the leaf mass improved significantly within the very short time.
The new growth however was not the lush, fleshy plant growth that is typical of young plants fed with conventional nitrogen, the stems where stiff and robust and strong enough to transplant easily.
This farmer grows 10 million plugs and has been doing so for 50 years and he now uses Delta across all his veg crops from plugs in the glass house to potatoes in the field and has been very happy with the result.
The centre of this picture is a tray of untreated brassica plugs, which is the control and has a blue plastic rod marker stuck in it. As can be seen, growth is good in the untreated plugs but the leaf mass is poorer compared to the trays surrounding which have been treated with NHCa Delta fertilizer. Note the leaf colour is dark green and healthy. Picture taken on 30th April 2012.
Once again untreated plugs look good but behind you can see an expanded darker green robust treated plant. Picture taken on 30th April 2012.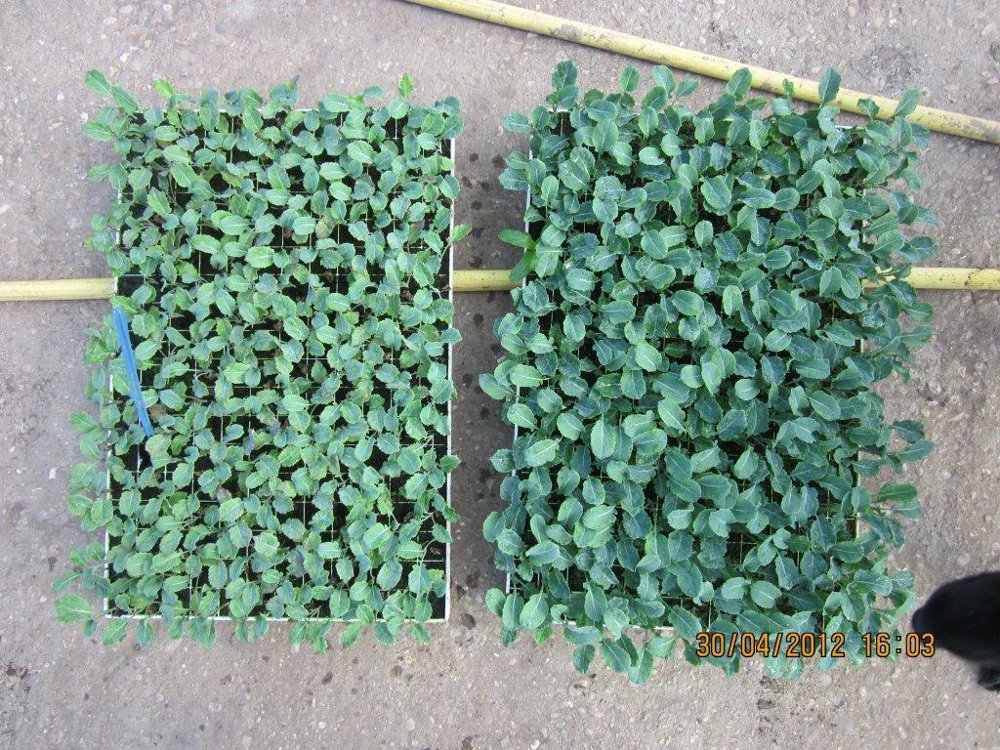 Its clear to see that the NHCa Delta has had a positive effect on the growth of the plugs. Picture taken on 30th April 2012.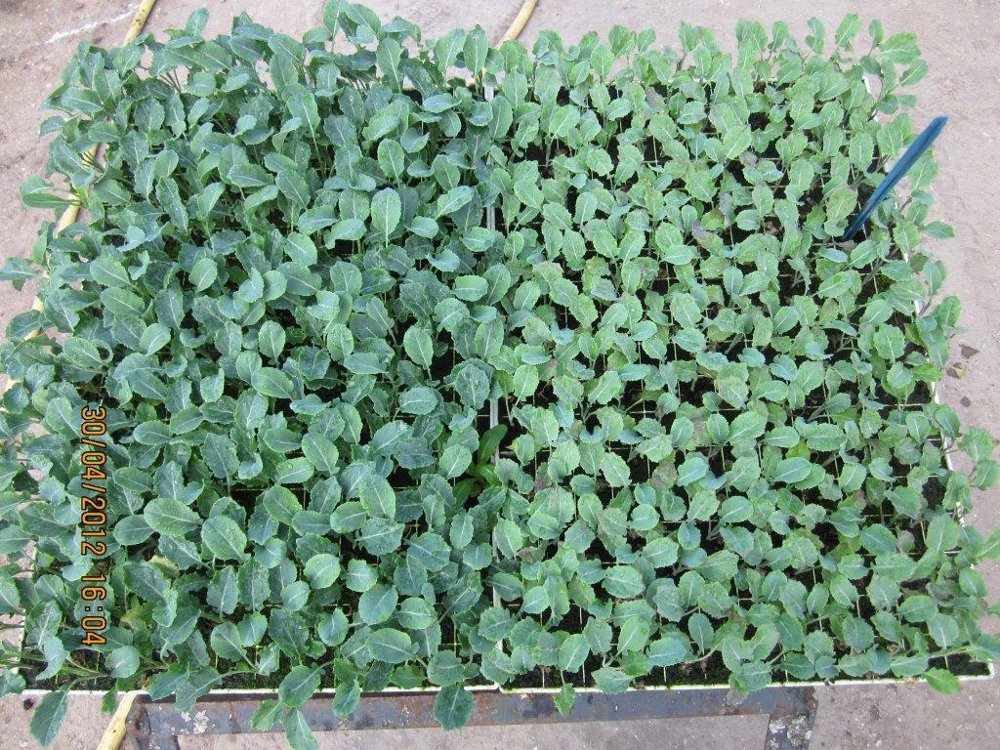 At the end of the NHCa Delta treatment it is clear to see the difference of the treated Brassica plugs on the left and the untreated plugs on the right of the picture. The plugs are healthier and stronger than those plugs that have not been treated and it is obvious that these plugs would handle very well when transplanted. Picture taken on 30th April 2012. Just 6 days after Delta was applied equivalent to 5L/ha